KITCHEN GREASE FILTER SALE & EXCHANGE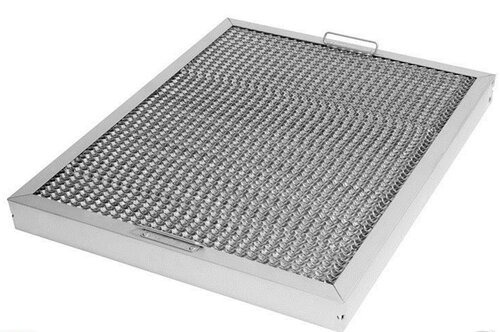 Cleaning your commercial kitchen grease filters regularly is one of the most efficient methods to guarantee your commercial kitchen maintains a healthy and safe atmosphere. Our technicians begin with removing your unclean, grease-filled filters and replacing them with new factory-cleaned filters. We will automatically repeat this operation at a frequency that is right for you to keep your kitchen running at its best.
OUR KITCHEN GREASE FILTER EXCHANGE SERVICE
To guarantee that you receive the best-looking and functioning filters, we exclusively utilize high-quality, efficient stainless-steel filters in our exchange program. These filters are tough and fire compliant. We do not keep any broken filters in rotation. We have all the tools needed to repair and maintain these kitchen grease filters at our shop. When one gets irreparably damaged, it is taken out from the rotation.
IMPORTANCE OF KITCHEN FILTER EXCHANGE
Filters that are not maintained, are greasy, or are broken can have a significant influence on airflow; such indicators include:
Kitchen with a smoky environment.
Inadequate fume extraction.
Oil-covered walls and ceilings.
A penalty imposed by local council.
Exhaust fan issue in a short period
Not serviced, dirty, and broken kitchen grease filters can cause a fire to spread throughout the ducting system, which is fueled by the oil and grease within the duct. It also seems to be filthy, unsightly, and unprofessional.
Honeycomb kitchen filters are by far the most popular filters in today's Australian kitchens for meeting food hygiene standards. These grease and oil filters are 50mm wide and made of aluminum foil ribbed into a herringbone-shaped channel. This filter creates a non-nesting honeycomb configuration with smooth walls. The grease-laden inbound air was divided by the metal ribs, forcing it to change direction.
Grease clings to the surface of the filter because of this resistance, preventing it from infiltrating the exhaust. Through the drainage perforations, the accumulated grease drips into the canopy channels. Steel is used for the retractable handles. We also provide other handles at customer request.
OUR KITCHEN GREASE FILTER EXCHANGE PROCEDURE
At the initial swap service, our expert brings a complete set of filters for the agreed-upon systems. Your original filters are then removed and saved someplace on site by you (we recommend cleaning them first). The initial exchange is completed when the clean set of filters is placed in the hood. At subsequent trips, we bring the second set of clean filters, replace the kitchen grease filters currently and return the old filters to our shop to be cleaned and maintained. We will alert you and determine the appropriate frequency for your exchange program to reduce the fire threat if the grease load in the filters is assessed to be too high at any time.
WHY SHOULD YOU TRUST METROPOLITAN AIR FILTRATION?
Manually cleaning your kitchen grease filters may be expensive due to the damage that can occur from poor cleaning or non-compliance fines that may result from grease washing down your drains. Let Metropolitan Air Filtration do the dirty job, and you will never have to clean your canopy filters again.
Our team of educated and qualified personnel is committed to assisting you in keeping your commercial kitchen clean and efficient. Remove the load from you and your team by entrusting the dirty labor to us.